Episode 2, Season 3 – Callvin strikes out in new directions while continuing to conquer the US.
Things were going well, better than in our wildest dreams. We had confirmation that our customized condoms were liked over the pond. 
We were working really well with Hanna, our new sales rep. And the volume of orders was huge. 
New York's Biggest Souvenir Store
Hanna had got us into more than 30 stores across Manhattan.
And she had achieved one of my dreams. She'd got us into Grand Slam on Times Square. The store is spread over three floors. The display stand for our products holds 3000 to 4000 items!
Grand Slam is ordering between 3000 and 4000 pieces every month. And other stores are also placing big orders.
It's on a completely different scale.
Then I spotted a big souvenir trade fair happening in Vegas in September. I started looking into it. The fair organizer told me: "Your product is great. I'm sure you'll be a hit in souvenir stores, but this fair is aimed more at resorts, theme parks, and zoos." 
I wasn't sure. 
I talked to Hanna about it. She said, "That's a great fair. You totally have to go." Well, OK then. It would be our third trip to the US.
So, I planned for a week in Vegas: four days at the fair, then a three-day trip to New York for meetings with my accountant, the bank, and Business France.
Business France are always really helpful. They'd given us some good contacts in Florida. 
And then, we set off for three days in Fayetteville. 
As we were giving more and more work to our subcontractor, they'd taken on a dedicated workspace, 20 minutes from Chambersburg. We now have a staff member working just for us.
Getting Ready for a Tsunami… of Condoms
We'd planned on spending those three days with our subcontractor to get the production line running smoothly. We wanted to get them ready so they'd be able to deal with a higher output. 
We'd come up with some important technical developments to optimize orders. Our visit was to bring that know-how and technology to them. They were printing around 5000 pieces a week. 
In France, we were printing between 7000 and 8000 pieces a day. 
The aim was to make some sales at the Las Vegas fair, to stores or store chains. But we were also hoping to find agents to take on. 
So, we needed our setup to be well structured so it could go from 5000 a week to 5000 pieces a day!
The optimization involved us putting workflows in place to reduce human interventions. This meant there was no longer any need to input orders or generate our visuals for printing manually. It would all be done automatically.
Claws 
Meanwhile, in France, we had delivered the adhesive bandages to GiFi.
A few weeks later, the buying department got back in touch with us.

Can you offer us another product? 

Sure. What did you have in mind?

Could you do some fun individual hand wipes?
We started looking into it. This time, it took us several months to come up with the idea. We struggled to find the right angle.
We asked ourselves : When do people use individual hand wipes? When they eat seafood. But that wasn't enough to build a collection on. So we started thinking about barbecues.
Then, during an online meeting with my graphic designers (one is in Annecy, another in Lyon, and the third in Aix en Provence), I had an idea. I turned to one of them and said, "David, imagine the poster for Jaws, with the woman swimming. We'll do that, with a hand instead of the shark's head. We'll call it 'Claws'". 
He sent me some artwork within the hour. In the place of the woman swimming, he'd put a little shrimp.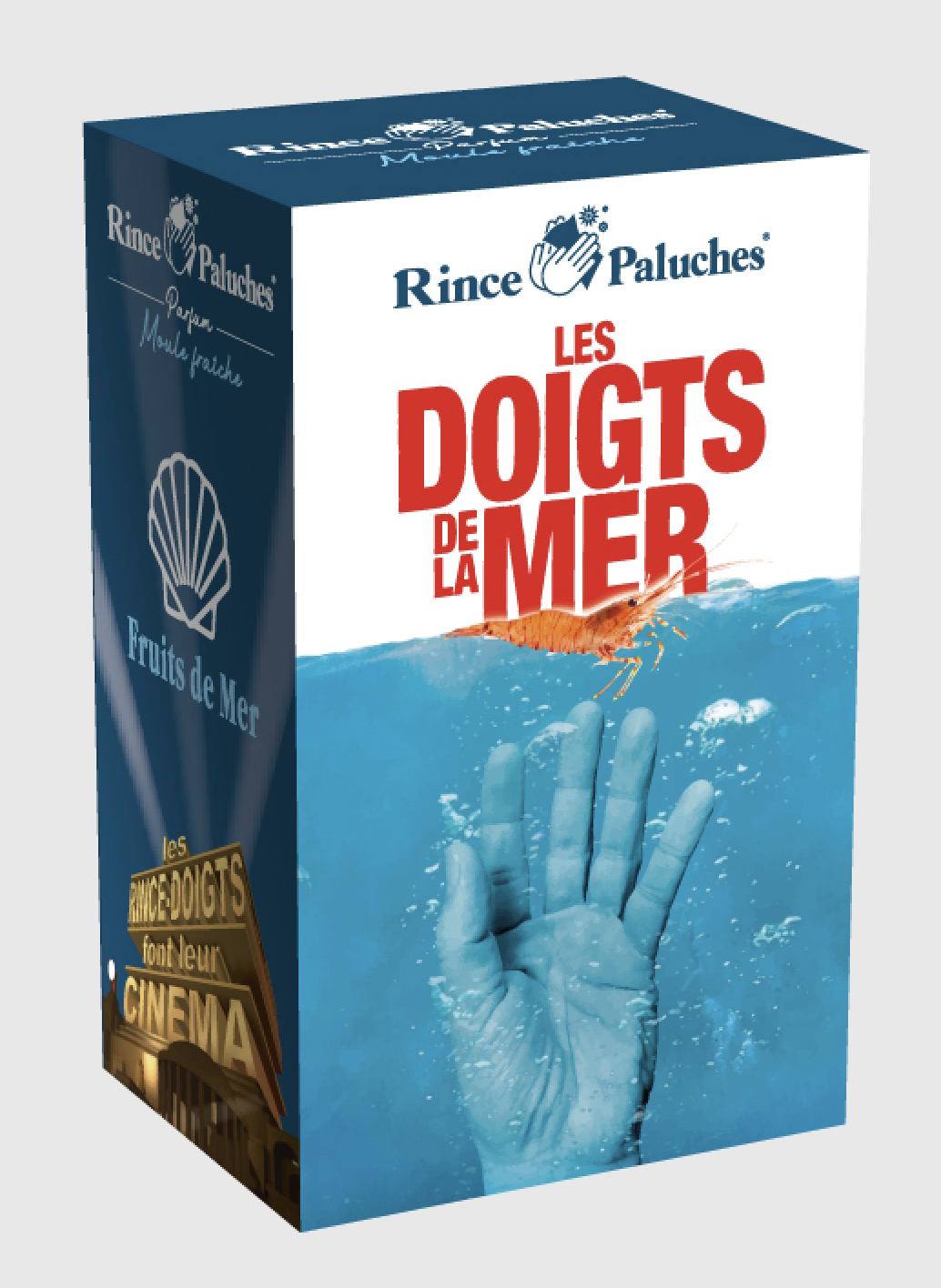 I got them this week, and we're about to send them to GiFi.
I also had customers ordering on Ankorstore. What I'd like to do is sell them in fish stores and restaurants. 
I had the chance to talk to a restaurant owner, and I asked him, "What made you want to buy our products?" 
He said, "What I had in mind was to give a pack with a different image to each person. If the customers like it, they're going to tell us that, at which point, we say to them, 'We've got packs on sale inside.'"
A fish store owner can do the same thing. They can offer a hand wipe to a customer and, if the customer likes it, suggest they buy a pack. 
I'm curious to see how it pans out.
To be continued…