Here we are a few days away from heading back to the US, after 21 impatient months ! 630 days!
Everything was off to such a good start when we got back from our first trip.
We had found our condom supplier, our printing partner, our first customers, and our business was just about to open.
I won't rehash the health crisis that has affected us all.
The enforced pause, although it was hard to deal with at the stage we had reached, is a fact of life that we have all had to face.
But, before we continue with our adventure, what's been going on during all this time?
On March 16 2020, Greg called me:
Greg: The president is making an announcement tonight.

Stéphane: Uh oh. Are we going into lockdown, like Italy?

Greg: Either that, or he just wants to wish a happy name day to all the Bénédictes…
So, yes, lockdown. We had no idea what lay before us. I have to admit, we thought the mayhem would last a few weeks at the very most…
Bouncing Back
Our product is mainly sold in souvenir stores. Which is to say that lockdown really put a spoke in our wheels. 
Our turnover dropped by 90 % in March and April. We had no choice. We had to press on. Even if it meant losing everything, at least we'd know we'd given it our all. 
We had to take out a government guaranteed loan and make the necessary investments that went with it. 
We had to find other options. As there was demand for it, we launched a new product: customizable hand sanitizer.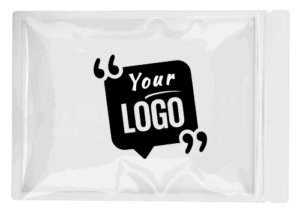 Then we launched our redesigned site as planned, with an English version for the US and a PRO space for our retailers.
We asked Business France to get started on our US market research project. "America, America…"
We were preparing our US expansion, which was looking very promising.
When we met with our printing partner, we found out that they had put aside a 500 m2 space for us. It was a dream. We hadn't expected so much. And all that for an incredibly competitive price. In short, we'd found our perfect partner. 
We needed cash to set up in the US. In exchange, Callvin put all its production into the hands of APC. 
We entrusted them with managing all our orders over there. Them being involved in the company contributed to an atmosphere of trust. When we met them in January, we were tremendously surprised by the welcome we received. They gave us so much more than we were expecting.
We have our production in France, which involves printing and then, every evening, we send a delivery out to an ESAT that takes care of the packaging for us. 
ESAT: a facility that allows disabled people to undertake paid work while benefiting from medical, social, and educational support in a protected environment.
In the US, APC was offering us both services in one single place…
We said to ourselves that we might as well bring them into the business. So, just before the summer of 2020, Callvin made them the offer of a joint-venture.
A joint-venture means setting up a company with a partner, normally with around a 50/50 split, meaning there is a real interest on both sides. 
After a two-month project, Business France sent us a file with all the potential service providers and customers they had been able to find: around fifty prospects in total. We sent samples to everyone. We even sent full presentation stands to the big companies.
Our product is always our best ambassador!
August 2020. Hammer Blow: The Crisis Takes Hold
The first blow: APC turned down our offer. In light of the economic situation, they no longer had any work. The person they had allocated to Callvin, had to be deployed elsewhere. And they'd had to sell the machine assigned to printing Callvin's condoms too.
Keeping the Faith
Taking blows, bouncing back, finding solutions, taking more blows… By now, we understood that the crisis was here to stay for quite some time. We were going to have to reinvent how we worked. And we were going to have to do it fast.
We still wanted to expand into the US, but we couldn't physically get there. We had to change our business model and forget the souvenir shops, in order to become a resilient business.
We had to forget everything we knew, and start all over again.
In Batman Begins, Bruce's father used the saying: "Why do we fall? So we can learn to pick ourselves up."
To be continued…